Digital health is an innovative, ever-changing area in healthcare. With the potential to ease the demand on overstretched healthcare systems across the world, while simultaneously offering patients the opportunity to control their own disease management, digital health offers an opportunity to improve healthcare for patients while helping doctors to be more efficient.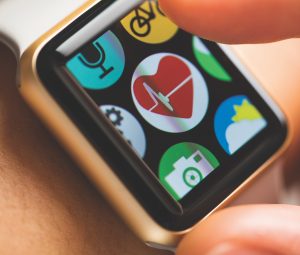 From the ever-increasing availability of new apps aiming to help the management of chronic disease to the increasing popularity of video doctor appointments, digital technologies offer improved accessibility and ease of use for patients. As digital health continues to become increasingly important for the healthcare sector, we take a look at four key trends.
There's an app for that: how doctors and patients are using apps to regulate and manage illness
With the world now operating ever more increasingly in the digital sphere, mobile apps are becoming an integral part of how patients, and doctors, manage illness.
Whether designed to help patients manage chronic disease, keep on track of their medication or even book doctors appointments, mobile apps are well on the way to becoming a standard aspect of healthcare.
There are now over 200,000 people in the UK registered on the NHS app, demonstrating patients' new proactive involvement in their own care by using mobile apps to manage the everyday aspects of a range of health conditions.
One app, in particular, has been making a real difference in patient outcomes – newly relaunched Constant Therapy, an app designed for people who have had a brain injury or live with a cognitive disorder.
The system was designed by neuroscientists and clinicians at Boston University in 2012 to digitise therapy through a Neuro Performance Engine (NPE) that creates a highly customised map of each user's strengths and weaknesses across 80 different categories.
Other chronic conditions, like diabetes, have seen major advancements in technology assistance for the management of their disease.
An exciting development for those living with type 1 diabetes comes from Abbott, a glucose sensing technology company, and Insulet, a diabetes medical device company, who have partnered to develop integrated technology that automatically adjusts insulin delivery based on personalised glucose data.
Abbott's continuous glucose monitoring (CGM) technology and Insulet's Omnipod Horizon Automated Insulin Delivery System will be combined to offer an easy-to-use digital platform for people living with type 1 diabetes.
The companies will aim for the integrated platform to be controlled through an app on the user's personal smartphone device, and will consist of a tubeless insulin delivery Pod and Abbott's FreeStyle Libre Sensor.
A new start-up app, named Quin, is also looking to help millions of people with type 1 diabetes to manage their disease. The app is powered by algorithmic insights and machine learning to help users decide when and how much insulin they should be taking on a daily basis.
The emergence of home- based clinical trials: offering a new solution to high dropout rates
A major issue facing the pharmaceutical industry is the growing costs of research and development of new drugs, with clinical trials shouldering much of that expense.
One solution could come in the form of remote or 'home-based' clinical trials. Not only can a home-based clinical trial possibly reduce the costs of clinical studies, but it could also remedy the high dropout rate observed in trials across a range of therapy areas.
For the life sciences industry, tackling high dropout rates, along with encouraging patient participation in clinical research, is a top priority. Enter 'virtual' clinical trials, that are lauded not only for patient-centricity but also for providing researchers with a wealth of patient data in real time.
An integral aspect of a virtual trial is its incorporation of patient-facing technologies, including smartphones, tablets and wearable technologies.
With these technologies, patients can be provided with daily, if not hourly, reminders of when to take medication, with the further option of increasing patient interactions with researchers through video calls or instant messaging.
This new type of trial could be wholly virtual, ie, take place completely remotely or it may involve some research site visits – either way, patients do not have to undertake the same level of travel and the associated inconvenience when taking part in a virtual trial.
Although investigators in the industry have presented concerns that as research reaches later stages – phase 2/3 trials which often form the basis of regulatory submissions – 'virtual trials' could be too risky compared to the benefits, the introduction of this new process still offers exciting possibilities.
The doctor will see you now: the increasing popularity of video appointments
A new standard of virtual care could be hugely beneficial, if not slightly dystopian, for many patients, as video appointments become more popular among the general population.
For many patients the emergence of video appointments offers a new level of convenience in the day-to- day management of health, cutting out the need for unnecessary and often long travel or waiting times.
The mobile app and website Push Doctor offers free GP consultations online, via text or video, to more than 5.3 million people across the UK.
The video or text appointment works in much the same way as a traditional consultation, and doctors may offer prescriptions or even a specialist referral following discussion of a patient's symptoms and medical history.
Push Doctor, which has a 'good' rating from the CQC, has partnered with the NHS to allow patients to see one of the app's doctors, with the aim of creating more appointments where services are otherwise stretched.
For a health service that is under increasing pressure as a result of the highest levels of demand on record, apps and online services like Push Doctor are effective tools that could help doctors be more efficient.
Bridging the gap: the growth of video-conferencing as an educational tool for surgeons
The use of video is a technology that is becoming more widely used in operating rooms, thanks to the emergence of laparoscopy and other minimally invasive surgery techniques. A growing trend, however, is the use of video as an educational tool for aspiring surgical students and qualified surgeons to refine and develop their skills.
The resource, dubbed 'telementoring', allows surgical videos – either recorded and live-streamed – to be shared for educational purposes. Instead of crowding into a lecture room, trainee surgeons can access live feeds of surgery from anywhere, regardless of physical location.
What is perhaps more significant about this emerging field is the possibility that this will increase access to top-notch educational resources, as it enables medical students across the world to access video conferences to observe real-time operations.
Another area to watch is the emergence of virtual reality (VR) – coupled with haptic feedback to simulate surgery for trainees, this is also available as an education tool.
Researchers at the David Geffen School of Medicine, University of California, recently undertook research to validate the educational use of a VR-based system, called Osso VR, for a bone fracture repair procedure.
The results showed that medical students who used the VR for training completed the procedure 20% faster, with 38% completing more steps correctly, compared to the traditionally trained group.
With a need for expert medical training and better access to educational tools in the healthcare sector, video-based and virtual technology could bridge the gap and improve not only doctors' skills, but also patient outcomes as a result.
Source PM Live, Lucy Parsons