Thousands of staff and patients will take part in the second NHS Change Day, pledging to do something to improve the service
Staff at Sandwell and West Birmingham hospitals run through their Change Day pledges. Source: NHS Change Day
Pledges ordinary, pledges extraordinary,
Pledges about care, whether coronary or pulmonary.
Pledges by children, pledges by medics,
Pledges about talking, pledges about ethics.
People are pledging because they care,
We love the NHS and need it there.
Thousands of NHS staff are expected to take part in the second NHS Change Day on Monday 3 March, when they will pledge to do something to make the health service better.
Dr Damian Roland, one of the doctors credited with getting Change Day off the ground, says cynicism and ambivalence were rife at the outset. But the movement has been marked by extraordinary untainted enthusiasm.
The first Change Day last March had a goal of 65,000 pledges – 1,000 for every year of the NHS – but it banked more than 189,000. This year the goal is an ambitious 500,000 online pledges; so far the tally stands at more than 200,000
"We want everyone and anyone to pledge, not just staff, but patients, the public, anyone working alongside the NHS," says Roland, a senior paediatric registrar at University hospitals, Leicester.
People can pledge to do something that should be common practice anyway, such as smiling at patients and always introducing themselves by name, a special one-off project, or something to gain insight into what life feels like for patients.
Last year, Roland tasted paediatric medicines. One antibiotic tasted so foul that he said: "It amazes me that any parent manages to get their children to take it. So sometime the course isn't completed and this can lead to problems. We may have to look at alternatives." He is working with the hospital pharmacist to create a more child-friendly version.
This year, he will lie on a spinal board in a collar and head blocks for an hour. This is how children sometimes arrive in A&E where he works. "It is frightening and bewildering, being forced to keep rigidly still staring at the ceiling."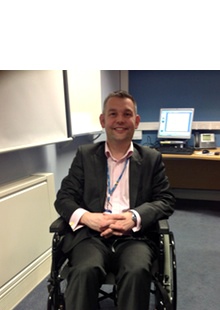 Cheshire GP Jonathan Griffiths pledged last year to spend a day in a wheelchair to see what life can be like for patients. Photograph: NHS Change DayJonathan Griffiths, a Cheshire GP and chair of Vale Royal clinical commissioning group, pledged last year to spend a day in a wheelchair to see what life can be like for patients. He discovered that a ramp into a taxi was too steep for him to push himself up, he scraped his knuckles steering down a narrow corridor at the CCG offices, and he could not propel himself across a room while holding a cup of coffee.
"But it was the feeling of being isolated that got to me," he says. "I vowed to slow down and make time to talk to patients."
This year he will work as a receptionist in this own practice and has pledged to introduce himself to every patient.
Liam Kennedy, a transformation project manager at Heatherwood and Wexham Park foundation trust, came across Lucy, a youg woman who is autistic, in a Twitter chat about Change Day. She told him that when she had a hospital appointment in November, she was asked to wait "outside". Lucy took the instruction literally, and more than an hour later someone found her on a chilly bench outdoors.
"We have to be careful to get communication right – it applies equally to patients with hearing difficulties or with English as a second language," says Kennedy. "I'm working with Lucy to help make this happen, for instance by seeing staff get the right training.
"It's crazy to think that we are all part of the biggest movement the NHS has seen in its history – exciting times."
Patients and carers are getting involved, too. Lesley Chan, a midwife at Central Manchester University hospitals NHS foundation trust, is "on a mission" to get sign language incorporated in NHS nurse training.
Her nine-year-old daughter Amélie has spent a third of her life as an inpatient as she copes with the huge problems of her rare genetic disorder, Charge syndrome, including having no hearing. While she is in hospital, her mother or father is with her day and night because, without them, she has no way of communicating. None of the staff can sign.
So Chan is campaigning for student nurses to learn relevant signs, and will be running staff sign language training on Change Day. Her pledge points out that learning simple signs such as "please", "wash", or "are you OK?" would make such a difference.
One of the Change Day campaign themes is: "It's about me", highlighting that NHS staff should always talk directly to patients as well as their parent or carer about their treatment, regardless of age or disability.
Adam Bojelian, a remarkable 14-year-old with cerebral palsy and other complex health problems, communicates by blinking, has written a poem for Change Day (see extract above). His mother Zoe says: "He's a bright boy and he's quite stubborn and will state his views firmly. He wants hospital staff to recognise that children are often experts in their own care, and not to make assumptions. Staff often think that because he has severe physical problems he must be cognitively impaired too – and that's far from the case."
Source – The Guardian http://www.theguardian.com/healthcare-network/2014/feb/27/nhs-change-day-staff